A Bohemian wedding lies in the ability to blend the organic with the aesthetically pleasing, capturing the essence of free spirit and romanticism. Whether you are walking down the aisle in a rustic barn or exchanging vows in a breezy coastal setting, it is the attention to detail that elevates the wedding from simply beautiful to enchantingly bohemian. One designer who understands this is Xander Kostroma, whose rattan earrings and Howlite stones have been featured in Weddings & Honeymoons Magazine this summer, capturing the hearts and imaginations of brides looking for that boho-chic flair.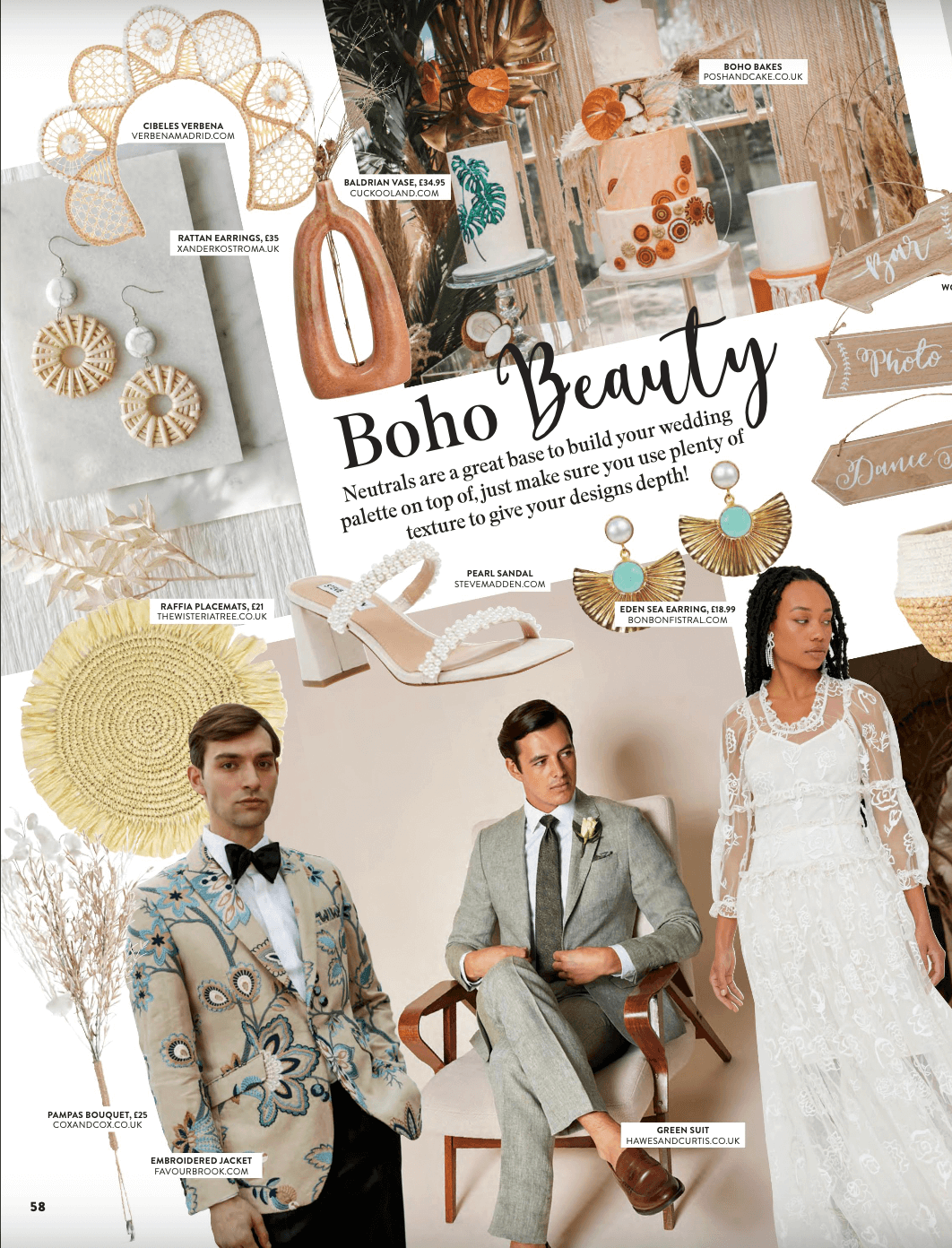 Rattan is a material that speaks volumes when it comes to style and substance. The woven patterns of rattan are intricate yet relaxed, making it a perfect material for bohemian-inspired wedding accessories. Xander Kostroma's rattan earrings embody this ethos beautifully, creating a statement piece that feels both elegant and earthy. Rattan's natural, woven texture provides a unique but subtle contrast to the usual silver or gold wedding jewellery, the lightweight nature of rattan makes these earrings both comfortable and practical for a long day of celebration, allowing you to dance the night away without feeling weighed down.
A bohemian wedding is as much about the symbolic significance of the elements involved as it is about it's aesthetic appeal. Rattan symbolizes strength and resilience, qualities that are integral to a successful marriage. On the other hand, Howlite crystal is a stone often associated with mindfulness and emotional well-being. The combination of these two materials in Xander Kostroma's designs serves as a physical representation of the balance and harmony that a successful partnership requires.
Howlite, is a semi-precious stone that is known for its captivating white hue, marries a traditional wedding white colour scheme with the modern, chic style style of the bohemian bride. Howlite crystal when paired with rattan, provides the perfect balance between tradition and whimsy. Howlite crystal is also believed to have calming properties, making it a must-have for any bride's accessory list for the big day.
When planning a bohemian wedding, the details truly matter, and it is these very details that Xander Kostroma Howlite and Rattan earrings capture so well. Marrying aesthetic appeal with meaningful symbolism, these earrings are not just pieces of jewellery but tokens of a lifestyle and ethos. Opting for these materials gives a nod the bohemian philosophy itself, which ultimately is a celebration of love, life, and the beauty that arises when the conventional and the organic meet.
With Xander Kostroma's crystal earrings, you don't just wear jewellery; you embrace a way of living. So, as you take those sacred steps towards a new chapter in your life, let these pieces accompany you, accentuating the free spirit and romantic soul within.
LOVE,
Xander & Co.
Leave a comment on this post
Thank you for for the comment. It will be published once approved.